Case Closed - Y6 CSI Day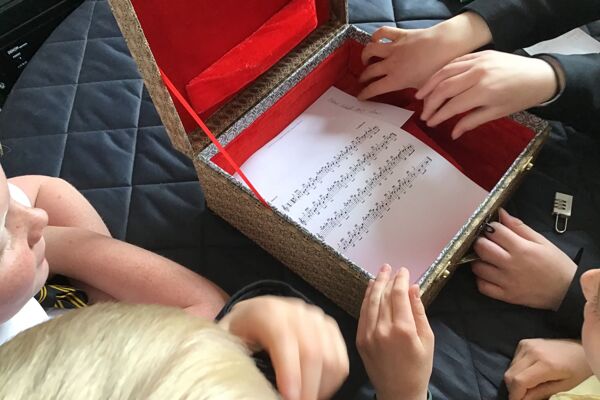 On Thursday 28th April, the school awoke to hitherto unimagined tragedy: the House Cup had been stolen. Mercifully, help was on the way in the form of East Anglia's finest, and possibly youngest, detectives. Year Six to the rescue.
Beginning at the scene of the crime, historic Old School, our Year Six sleuths searched high and low for clues, discovering minutes of a fractious Heads of House meeting, scrutinising cleaning logs and staffing rotas, uncovering menacing handwritten notes and suspicious pens, as well as a mysterious code-locked box.
Then it was off to the lab with Mrs Faye to see if the culprit could be identified by their choice of ink. Alas, the chromatography revealed only that Mrs Clark, Head of Coles, was unlikely to be the guilty party. Next, Cyber Security, where Mr Foreman equipped the team to hack into CCTV cameras and locate the digital key that would allow them to intercept potentially incriminating emails between Mr Hill and Mr Glassbrook. Alas, the emails were encrypted, but that would have to wait – there were witnesses to question.
Under glaring lights and at the direction of Mrs Cornell in the Drama studio, our cleaner, Ella Cinders, played wonderfully by Poppy in Year Eleven, Mr Glassbrook, played with unnerving accuracy by Harry M in Year Eleven and Mrs Faye, played in her own inimitable style by herself were questioned. Could our detectives believe a word they were being told? Highly unlikely, although Mr G's predilection for pizza was entirely believable.
Back to the hard evidence, and a trip to our Forensic Linguistics department where Miss Ehinger kept the investigators to a tight budget whilst they selected the resources that would allow them to unencrypt the illicit emails. Across a range of language cyphers, it was eventually showed that Mr Hill, Head of Millingtons, could be eliminated from the enquiries.
The pool of suspects was now down to Miss Dunsmore, Head of Reeds, and Mrs Weyers, Head of Cronsheys. The contents of the mysterious box had to be revealed, and Year Six sought out the Code Breaking expertise of our Head of Maths, Mrs Beukes.
Code broken, box opened, the finger of blame pointed solely in one direction. However, in order for our detectives to definitively crack the case, their paperwork had to be up to the exacting standards of DCI Mrs Glassbrook, who helped them transfer their notebook scrawls to formal police reports.
Once properly filed, the evidence was damming, the conclusion was final, and these Year Six Sherlocks were in no doubt: it was Mrs Weyers what done it. A video confession proved them right and from a blurry image sent to Mr Brewer, the team made one final breakthrough and located the House Cup!
All that was left was for Lauren M, Prep School Captain of Millingtons, to re-tie the green ribbon signifying her House's victory at the end of last year, and to give out the sweets that had mysteriously filled the cup in time it had been missing.
We will all sleep a little safer at night knowing such fine minds are within our community solving crimes and righting wrongs.